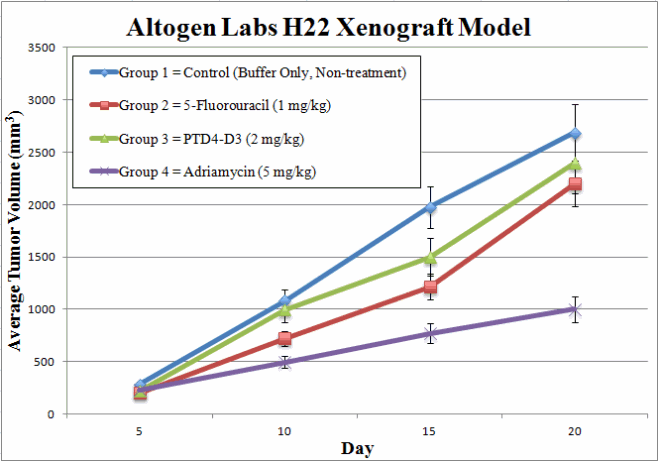 H22 xenograft model
Liver cancer is the second leading cause of cancer-related deaths worldwide, as indicated by Oncotarget, published in July 2015.  Liver cancer is characterized by several main characteristics such as a high rate of recurrence, low early detection rate, and ineffective treatment regimens. The H22 cell line is derived from murine hepatic carcinoma cells; murine preclinical models have proven to be useful tools in the study of liver cancer. In a 2014 study published in PLoS One, in vivo antitumor activity of a novel Sorafenib derivative, named HLC-080 was tested using the H22 xenograft model. The study demonstrates that HLC-080 has the potential to inhibit cell proliferation. The significant advantage of the H22 xenograft model is that liver cancer H22 can grow in many mouse strains with high invasiveness and metastasis; thus, this model is widely used in anti-tumor research. Zeng et al. also used the H22 model in their 2010 study demonstrating how the dendritic cells vaccine with AFP cDNA fragments (the signal peptide AFP1 but not AFP2) elicits an antitumor immune response. A 2015 study in Oncotarget (He et al.) used the HC22 model to investigate hepatic cell carcinoma (HCC) pathogenesis of therapies; results highlighted the in vivo functions of microRNA in HCC and provided suggestions on how to choose HCC models based on genomic alterations, morphology, histology and biochemical phenotypes. Lastly, Song et al. (2012) used the H22 xenograft model to show that crude gecko peptides can induce apoptosis in tumors. The H22 cell line (mouse liver) is used to create the CDX (Cell Line Derived Xenograft) H22 xenograft mouse model. The H22 xenograft model enables the study of potential therapeutics for HCC, including immunotherapies in the orthotopic model. The orthotopic H22 model has been shown to increase the immune cell population of regulatory T cells and myeloid-derived suppressor cells in the bone marrow, spleen and tumor tissues.
Download Altogen Labs H22 Xenograft Model PowerPoint Presentation: 

Basic study design
All flasks are maintained at a phase of exponential growth prior to collection.
The H22 cells are collected for injection by trypsinization.  Cell count and viability is determined by a trypan blue exclusion test (min 97-98% cell viability).  Cell suspensions are adjusted to the required density for inoculation.
3. One million cells (in a volume of 100 µL) of the Matrigel/H22 cell suspension is injected subcutaneously into the hind leg of each mouse (NOD/SCID or athymic Nude mice, 10-12 weeks).
4. The injection sites are monitored until tumors are established.  Digital calipers are used to measure tumors until they reach sizes of 100-200 mm3.
5. Post-sorting into the treatment cohorts (randomization), the compound of interest is administered according to the treatment schedule.
6. Daily tumor measurements are taken and mouse weights are recorded up to 3 times weekly.
7. As the predetermined tumor size limit is reached (or 2,000 mm3), animals are euthanized.
8. As defined for the termination of the experiment, a necropsy and tissue collection is performed.
9. All tumors are removed and weighed, then documented via digital imaging.
10. Tissues are collected for downstream analysis by performing standard gross necropsies.
11. All tumors and tissues can be snap frozen, prepared for histology, stabilized in RNAlater or nucleic acid isolated for genetic analysis.
Get Instant Quote for
H22 Xenograft Model
The dosing of the experimental compound of interest is initiated, for a staged study, when the mean tumor size reaches a specified volume (typically 50-100 mm3). In an unstaged study, the dosing of the compound of interest is initiated immediately after xenografting. Mice are dosed once or twice a day for 28 days (or other desired study duration) via the chosen route of administration. Tumor volume (mm3) is calculated via the "(W x W x L) / 2" formula, where W is tumor width and L is tumor length.
Animal handling and maintenance at the Altogen Labs facility is IACUC-regulated and GLP-compliant. Following acclimatization to the vivarium environment, mice are sorted according to body mass. The animals are examined daily for tumor appearance and clinical signs. We provide detailed experimental procedures, health reports and data (all-inclusive report is provided to the client that includes methods, results, discussion and raw data along with statistical analysis). Additional services available include collection of tissue, histology, isolation of total protein or RNA and analysis of gene expression.
Following options are available for the H22 xenograft model:
H22 Tumor Growth Delay (TGD; latency)
H22 Tumor Growth Inhibition (TGI)
Dosing frequency and duration of dose administration
Dosing route (intravenous, intratracheal, continuous infusion, intraperitoneal, intratumoral, oral gavage, topical, intramuscular, subcutaneous, intranasal, using cutting-edge micro-injection techniques and pump-controlled IV injection)
H22 tumor immunohistochemistry
Alternative cell engraftment sites (orthotopic transplantation, tail vein injection and left ventricular injection for metastasis studies, injection into the mammary fat pad, intraperitoneal injection)
Blood chemistry analysis
Toxicity and survival (optional: performing a broad health observation program)
Gross necropsies and histopathology
Positive control group employing cyclophosphamide, at a dosage of 50 mg/kg administered by intramuscular injection to the control group daily for the study duration
Lipid distribution and metabolic assays
Imaging studies: Fluorescence-based whole body imaging, MRI