ELISA and Cell-Based Assay Development (Cell Cycle, Viability)
Download Altogen Labs ELISA Assay Development PowerPoint Presentation: [PPT]
ELISA and Cell-based Assay Development
Enzyme-linked immunosorbent assays (ELISAs) are often used for quantification of antibody or antigen binding activity. They are used to convert the binding activity of a molecule to a measurable spectrophotometric response. Variations on this method can be used to test different types of ligand binding or measure other qualities. ELISAs are a powerful tool commonly used in industrial applications for research, diagnostics, and quality control.
Cell-based assays allow the examination of biochemical processes in situ. Altogen Labs can culture a wide variety of cells, allowing for study of their signaling, internal chemical processes, and reactions to stimuli. In addition, our expertise in cell-based assays allows for a range of applications including cytotoxic assays, metabolic assays and cellular mechanism analysis. Cell functions that can be clarified with these types of assays include receptor activation, receptor binding, cell signaling and ligand internalization. Measurements of these processes with cell-based assays convey a more rounded picture of how they occur within their natural environment.
Altogen Labs possesses extensive experience in creating unique and novel approaches to immune- and cell-based methods. Platforms and approaches include enzyme immunoassay (EIA), Bio-Plex kinase profiling assays, biomarker analysis, receptor binding, cell signaling, cytotoxicity, cell cycle assays, cell viability, and cell proliferation.
Altogen Labs can develop a cell-based assay to quantify the effect of a client's proprietary compound by quantitation of specific biomarkers, cytokines, or phosphoproteins in cell culture supernatant or whole-cell lysates. Such technology allows researchers to apprehend the biological functions of complex systems and identify new targets of interest.
Custom ELISA kits and cell-based assays are designed to measure protein concentrations of interest and quantify the associated biological activity of target antigens. Customizable monoclonal and polyclonal antibodies produce high affinity, specificity and sensitivity to immune- and cell- based assays to identify given target antigens.
CUSTOM SERVICES:
• Antibody Testing, Custom labeling, Biotinylation, Purification
• Monoclonal and Polyclonal Antibody Development
• ELISA Assay Development
• ELISA Platform Optimization
• ELISA Assay Format Modification
Example of a custom designed quantitative Receptor-Ligand binding assay
The overall principle of the design was based on a sandwich ELISA method. Our design used a recombinant IgG-Fc domain fused to a receptor ligand binding domain (receptor:Fc), a biotinylated anti-ligand antibody and HRP-conjugated avidin for colorimetric signal generation.
Assay protocol:
1) Absorb receptor:Fc protein to wells of 96 well plates in carbonate buffer overnight at room temperature.
2) Wash the wells five times with buffer containing BSA to remove unbound receptor:Fc and to block unoccupied sites.
3) Add various concentrations of ligand and allowed binding to receptor:Fc for one hour at room temperature.
4) Wash five times with BSA containing wash buffer.
5) Add biotinylated detection antibody and incubate for one hour at room temperature to allow binding to receptor-ligand complexes.
6) Wash five times with BSA containing wash buffer.
7) Add avidin-HRP conjugate and incubate for one hour at room temperature.
8) Wash five times with BSA containing wash buffer.
9) Develop signal by adding HRP substrate and incubate at room temperature until measureable color develops.
10) Measure the OD650 of each well and perform calculations.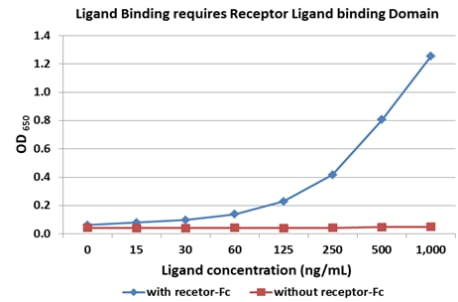 Figure 1. Dependence of ligand binding assay on receptor-Fc and ligand concentration. Wells of microtiter plates were either coated with receptor-Fc or left uncoated. Both sets of wells were incubated with increasing concentrations of ligand, followed by incubation with biotinylated antibody and avidin-HRP. The results of HRP activity measured as OD650.
Using this method we were able to determine that the system had a linear binding response in the range 250 – 1000 ng/mL of ligand. We used the system to determine whether small molecules affect ligand:receptor interactions.
ELISA and Cell-Based Assay Sample Analysis
Altogen Labs can use a robust cell-based ELISA assay to analyze customer-provided samples. Standard ELISA service includes testing activity of the compound of interest on a panel of 15 intracellular Ser/Thr kinases and 17 Tyr kinases, using phospho-specific antibodies by the determination of substrate-specific phosphorylation activity induced by kinase activation.
The activity of the following kinases can be profiled:
• Ser/Thr kinases: CDK2, IRAK4, GPKA, PKCβ, MAPK2, CDK4, JNK, PKB, p38α, MKK6, GS3Kβ, MAPK1, PKCα, p38β, IKK1
• Tyr Kinases: Abl, HGFR, Lck, Src, TrkC, EGF-R, IGF1-R, PDGFRα, Syk, VEGFR2,FIt-l IR, PDGFRβ,REC, Zap70, Jak2,RET,TRK

At Altogen Labs, we recognize that providing fast delivery of products and services is critical to expediting research. We are committed to meeting our clients' timely needs while maintaining high quality and integrity. All of our services undergo rigorous QC procedures.
Once we know the details of your project, we can provide you an immediate price quote (contact us via e-mail at info@altogenlabs.com or call Altogen Labs at 512-433-6177). Please note that experimental details will help us to provide an accurate quote and timeline estimate.
Get Quote for
ELISA and Cell-Based Assay Development
(Cell Cycle, Viability)