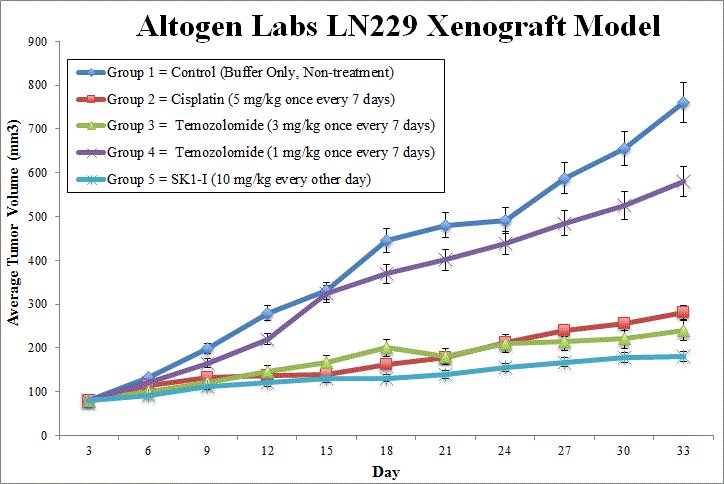 LN-229 xenograft model
The LN-229 human brain glioblastoma cell line was first obtained in 1979 from a female patient with right frontal parieto-occipital glioblastoma. The LN-229 cell line has a wild-type PTEN gene, mutated p53, and may potentially have homozygous deletions in the p16 as well as the p14ARF tumor suppressor genes. In a 1997 study, published in BBA Molecular Cell Research Journal, the LN-229 cell line was evaluated after the treatment with puromycin that killed LN-229 cells in a dose-dependent manner. In addition, stimulation of these cells with Fas ligand lead to apoptotic cell death within 16 hours. A 2011 Cancer Research study identified the LN-229 rodent xenograft model as a valid system to use the cryo-imaging technique for examining tumor progression and metastasis. This method differs from the traditional methods of serial sections and histological stains of brain tissue in that it uses computer algorithms to reconstruct 3-D images of this glioma model, essentially improving resolution and allowing the study of tumor cell invasion and dispersal. The LN-229 xenograft model has also been used in a 2013 study by Grommes et al. to identify the proliferator-activated receptor gamma (PRARγ) small molecule agonist pioglitazone as a potential therapeutic treatment for malignant gliomas. Pioglitazone was shown to cross the blood-brain barrier and exhibit antineoplastic effects in the LN-229 glioblastoma xenograft model. The 2012 study by Chen et al. also used the LN-229 cell line; this group identified a brain specific micro-RNA, miR-524-5p, that acts as a tumor suppressor. They demonstrated the targeting of Jagged-1 and Hes-1, key components of stem cell maintenance and angiogenesis pathways, by miR-524-5p and subsequent suppression of cell proliferation and invasion upon the miRNA's restoration.
Altogen Labs provides full xenotransplantation services for LN-229 glioblastoma cells. The LN-229 cell line is used to create the CDX (Cell Line Derived Xenograft) LN-229 xenograft mouse model. Targeting S1P to induce apoptosis (e.g. SK1-I) and inhibit AKT signaling are some of the uses of the LN-229 xenograft model, including tumor growth suppression with chemotherapies (e.g. temozolomide or cisplatin).
Download Altogen Labs LN-229 Xenograft Model PowerPoint Presentation:

Basic study design
Exponentially growing cells are collected for inoculation with viability determined by trypan blue exclusion.  A 98% minimum cell viability is required.
Suspensions are adjusted so 100 µL of 50% Matrigel solution + LN-229 cell suspension contains one million cells.  Cells are inoculated s.c. into a hind leg per mouse.  The mice are athymic BALB/C or NOD/SCID and 10-12 weeks old.
Calipers are utilized for tumor monitoring, with 100-150 mm3size tumors needed to initiate the study.  Mice are sorted into cohorts and test compounds are administered following the schedule.
Tumor measurements and mouse weights are recorded until tumor size limits are reached.  Necropsies are performed for tumor removal, weights are logged and digital images captured.
Choices for tissue collection include: submersion in RNAlater, snap freeze, isolate nucleic acids or prepare for histological analysis.
Get Instant Quote for
LN-229 Xenograft Model
Xenograft animal models are used to assess the effectiveness of drugs against specific types of cancer. New medicines are tested on staged tumor growths that have been engrafted via subcutaneous or orthotopic inoculation in an immunocompromised mouse or rat model. All clinically approved anti-cancer agents have been evaluated with conventional preclinical in vivo models. Xenograft studies can be highly complex, starting with the selection of the appropriate animal model, choice of tumorigenic cell line, administration method, dosing, analysis of tumor growth rates and tumor analysis (histology, mRNA and protein expression levels).
The dosing of the experimental compound of interest is initiated, for a staged study, when the mean tumor size reaches a specified volume (typically 50-100 mm3). In an unstaged study, the dosing of the compound of interest is initiated immediately after xenografting. Mice are dosed once or twice a day for 28 days (or other desired study duration) via the chosen route of administration. Tumor volume (mm3) is calculated via the "(W x W x L) / 2" formula, where W is tumor width and L is tumor length.
Altogen Labs provides an array of laboratory services using over 30 standard Cell Line Derived Xenograft (CDX) models and over 20 PDX models. Researchers investigating the role of specific proteins or gene products in regulating tumor growth can benefit from development of protein overexpression (genetically engineered to ectopically express proteins, tumor suppressors, or oncogenes) and RNAi cell lines with long term gene silencing. Altogen Labs provides quantitative gene expression analysis of mRNA expression (RT-PCR) and protein expression analysis using the WES system (ProteinSimple).
Animal handling and maintenance at the Altogen Labs facility is IACUC-regulated and GLP-compliant. Following acclimatization to the vivarium environment, mice are sorted according to body mass. The animals are examined daily for tumor appearance and clinical signs. We provide detailed experimental procedures, health reports and data (all-inclusive report is provided to the client that includes methods, results, discussion and raw data along with statistical analysis). Additional services available include collection of tissue, histology, isolation of total protein or RNA and analysis of gene expression. Our animal facilities have the flexibility to use specialized food or water systems for inducible gene expression systems.
Following options are available for the LN-229 xenograft model:
LN-229 Tumor Growth Delay (TGD; latency)
LN-229 Tumor Growth Inhibition (TGI)
Dosing frequency and duration of dose administration
Dosing route (intravenous, intratracheal, continuous infusion, intraperitoneal, intratumoral, oral gavage, topical, intramuscular, subcutaneous, intranasal, using cutting-edge micro-injection techniques and pump-controlled IV injection)
LN-229 tumor immunohistochemistry
Alternative cell engraftment sites (orthotopic transplantation, tail vein injection and left ventricular injection for metastasis studies, injection into the mammary fat pad, intraperitoneal injection)
Blood chemistry analysis
Toxicity and survival (optional: performing a broad health observation program)
Gross necropsies and histopathology
Positive control group employing cyclophosphamide, at a dosage of 50 mg/kg administered by intramuscular injection to the control group daily for the study duration
Lipid distribution and metabolic assays
Imaging studies: Fluorescence-based whole body imaging, MRI