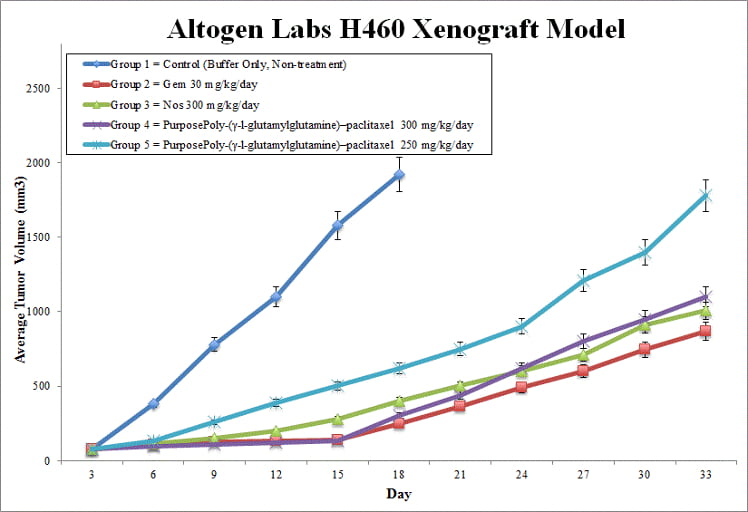 H460 xenograft model
Although lung cancer treatment has dramatically improved within the last two decades, it is the primary cause of cancer death in both males and females worldwide. It results in over 158,000 fatalities in the U. S. yearly, as per the American Cancer Society. The H460 epithelial cell line was isolated in 1982 from a male patient with large cell lung carcinoma. It is tumorigenic in nude mice and expresses p53 mRNA. The H460 cell line is negative for neurofilament triplet protein, but stains positively for vimentin and keratin. H460 does not show significant structural DNA abnormalities. A 2016 study published in Molecular Cancer Therapeutics investigated the efficacy of peloruside, a microtubule-stabilizing agent isolated from a New Zealand marine sponge, compared with standard anticancer agents such as paclitaxel, docetaxel, and doxorubicin in the H460 xenograft model. According to the article, peloruside shows an impressive dose-dependent single-agent antitumor activity in the H460 xenograft model. Peloruside is effective in preventing the growth of lung tumors in vivo and could be a clinical candidate for the treatment of lung cancer. A 2010 study by Jafri et al used the H460 cell model to test the efficacy of combining thymoquinone (TQ), a compound found in Nigella Sativa Black Caraway seeds, and cisplatin (CDDP), the most active lung cancer treatment, for lunch carcinoma treatment. Results demonstrated synergism between the combination treatment and was well tolerated in xenograft models, showed decreased tumor volume, downregulated NF-κB expression, inhibition of invasion and pro-angiogenesis cytokines (ENA-78 and Gro-alpha). Overall this supports the use of TQ combination therapy to overcome NF-κB-mediated CDDP resistance. Hsu et al. (2017) published an Environmental Toxicology study using the H460 model for an in vitro and in vivo evaluation of the mechanism of the anti-cancer effects of deguelin, a flavonoid family rotenoid and known Akt inhibitor. Treatmnet with deguelin was shown to decrease tumor growth and trigger cell apoptosis that accompanied an upregulation of pro-apoptotic factors including calcium production, caspase-3, cytochrome c, Bax, Bak, AIR and a decrease in mitochondrial membrane potential. These data support further investigation of deguelin as a potential therapeutic treatment. Lastly, Zhang et al. released a 2017 in Scientific Reports using H460 xenografts modulated to overexpress ABCG2, a transmembrane ATP-binding cassette (ABC) transporter that is responsible for drug efflux and multidrug resistance (MDR) and that is upregulated in many cancers. Results from this model demonstrated correlation of ABCG2 overexpression to drug resistance (such as with mitoxantrone and topotecan) and reversal of this resistance upon treatment with lapatnib, an ABCG2 inhibitor. This establishes the H460/ABCG2-overexpressing model as appropriate for the study of MDR. The H460 cell line (human lung) is used to create the CDX (Cell Line Derived Xenograft) H460 xenograft mouse model.  The H460 xenograft model enables tumor growth inhibition studies of small molecules such as gemcitabine, paclitaxel or doxorubicin.
Download Altogen Labs H460 Xenograft Model PowerPoint Presentation: 

Basic study design
All flasks are maintained at exponential growth prior to collection.
The H460 cells are collected by trypsinization. Cell count and viability are then determined by trypan blue exclusion (req 98% viability). Cell suspensions are then adjusted to the density required for inoculation.
One million cells (volume of 100 uL) of the H460 cell suspension (+ matrigel) is subcutaneously injected into the flank of the hind leg per mouse (NOD/SCID or athymic BALB/C, 10-12 weeks old).
Injection sites are monitored for tumor establishment.  Digital calipers are utilized for tumor measurement until tumors reach average sizes of 50-150 mm3.
After sorting into treatment cohorts (randomization), the test compound is administered following the treatment schedule.
Daily tumor measurements are recorded, along with mouse weights 3 times weekly.
Upon reaching the predetermined tumor size limit (or 2,000 mm3), the mice are euthanized.
As defined for termination of the study, a necropsy is performed.
Tumors are removed and weighed, and then documented by digital imaging.
Specified tissues are removed by performing standard gross necropsies.
Tumors and tissues are snap frozen, stabilized in RNA-Later reagent, prepared for histology, or a nucleic acid isolation performed for genetic analysis.
Get Instant Quote for
H460 Xenograft Model
Altogen Labs provides an array of laboratory services using over 30 standard Cell Line Derived Xenograft (CDX) models and over 20 PDX models. Researchers investigating the role of specific proteins or gene products in regulating tumor growth can benefit from development of protein overexpression (genetically engineered to ectopically express proteins, tumor suppressors, or oncogenes) and RNAi cell lines with long term gene silencing. Altogen Labs provides quantitative gene expression analysis of mRNA expression (RT-PCR) and protein expression analysis using the WES system (ProteinSimple).
Animal handling and maintenance at the Altogen Labs facility is IACUC-regulated and GLP-compliant. Following acclimatization to the vivarium environment, mice are sorted according to body mass. The animals are examined daily for tumor appearance and clinical signs. We provide detailed experimental procedures, health reports and data (all-inclusive report is provided to the client that includes methods, results, discussion and raw data along with statistical analysis). Additional services available include collection of tissue, histology, isolation of total protein or RNA and analysis of gene expression.
Following options are available for the H460 xenograft model:
H460 Tumor Growth Delay (TGD; latency)
H460 Tumor Growth Inhibition (TGI)
Dosing frequency and duration of dose administration
Dosing route (intravenous, intratracheal, continuous infusion, intraperitoneal, intratumoral, oral gavage, topical, intramuscular, subcutaneous, intranasal, using cutting-edge micro-injection techniques and pump-controlled IV injection)
H460 tumor immunohistochemistry
Alternative cell engraftment sites (orthotopic transplantation, tail vein injection and left ventricular injection for metastasis studies, injection into the mammary fat pad, intraperitoneal injection)
Blood chemistry analysis
Toxicity and survival (optional: performing a broad health observation program)
Gross necropsies and histopathology
Positive control group employing cyclophosphamide, at a dosage of 50 mg/kg administered by intramuscular injection to the control group daily for the study duration
Lipid distribution and metabolic assays
Imaging studies: Fluorescence-based whole body imaging, MRI