Altogen Labs is now offering expedited PCR analysis services for most variants of COVID-19, including the highly transmissible Omicron variant. Results are guaranteed the next day. The price for this service is $250.
Altogen Labs offers PCR tests only.
How does it work?
Submitting your sample for PCR testing at Altogen Labs is done at the convenience of your own location. The instructions are to use a swab and run it along the inside of your nose about a ¾ inch up at least 4-5 times around, near 10 seconds per nostril. Be gentle, the goal is just to get it moistened. On the other side, run the end along the inside of your cheek or chew on it thoroughly. The client then places the swab inside of a ziploc and writes their full name, date of birth, and email on the ziploc. Then, ship it to Altogen Labs by selecting priority one-day shipping (FedEx, UPS, etc). Alternatively, you can drop it off at our location in the lockbox at the front of the company. Pay $250 via PayPal to info@altogenlabs.com. Please print out the PayPal receipt and mail it with your ziploc. While entrance into the building is not permitted for safety reasons, drop-off at the box is available. The results will be emailed to the client the next business day (it is the same-day service for all samples received before 11:00 AM). Laboratory process samples every day (Monday-Saturday) at 11AM. Samples received after 11AM (regardless via mail or drop-box) will be processed next business day. We are closed on Sundays and US holidays.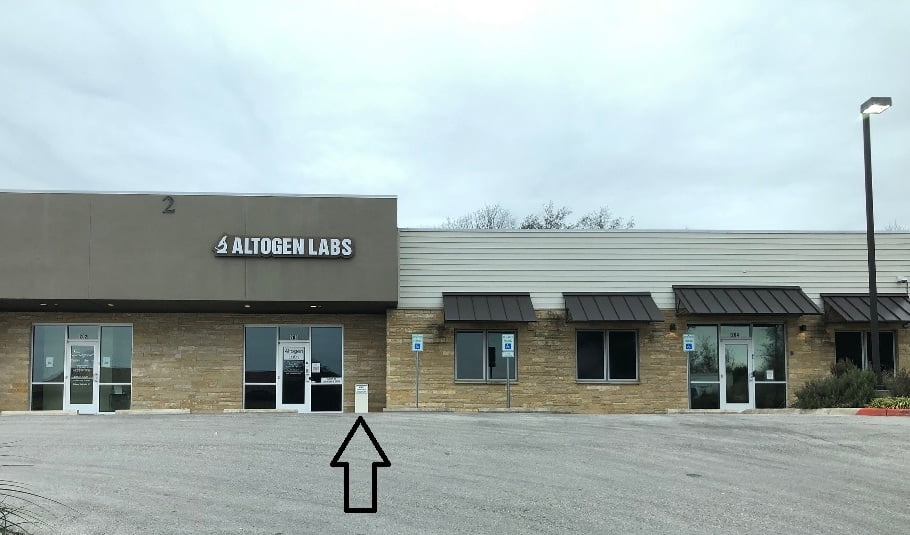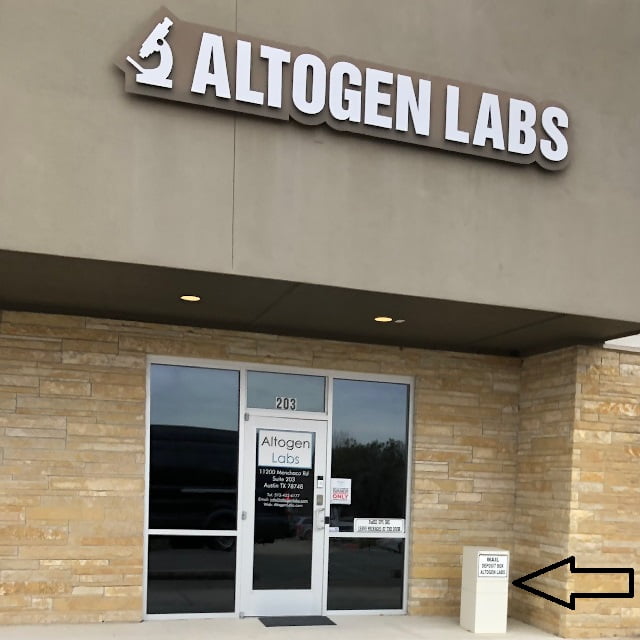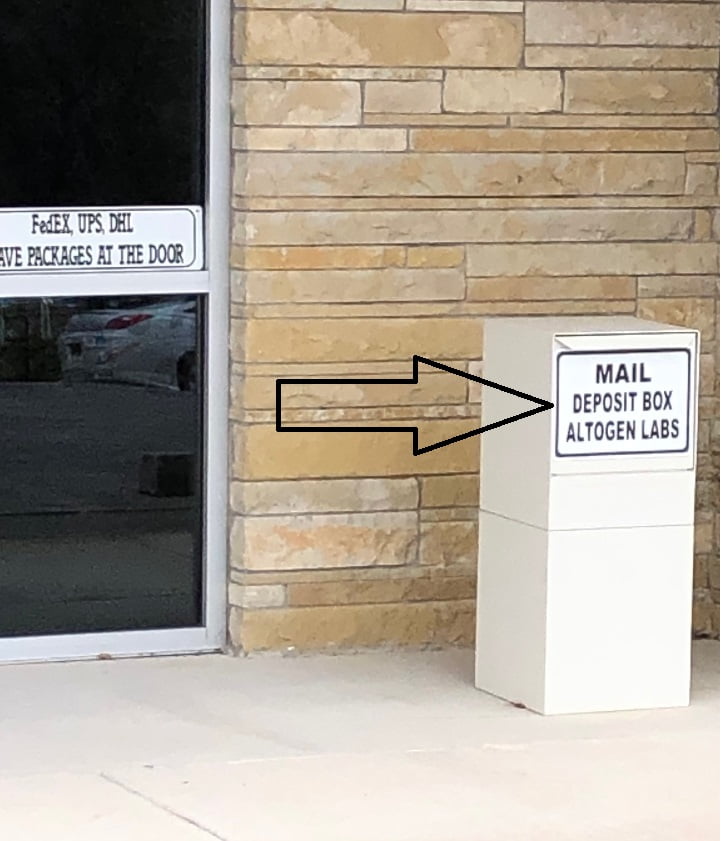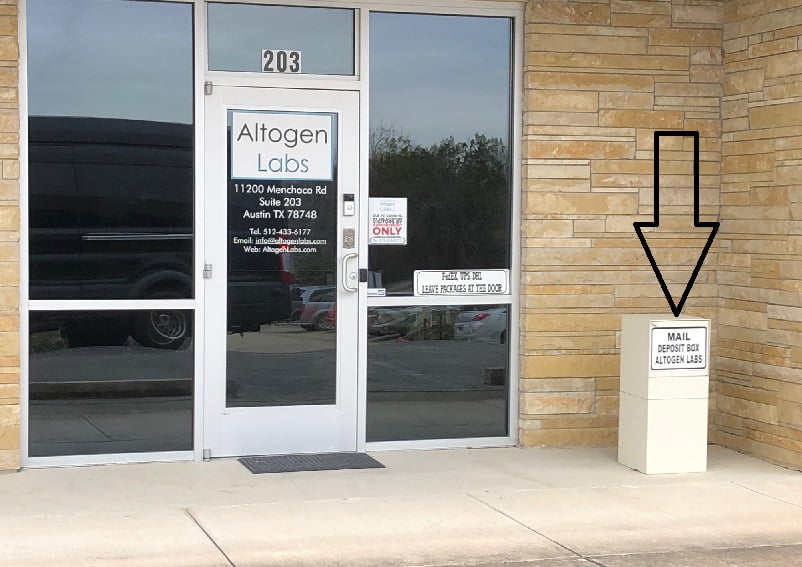 Why are samples collected this way?
This approach is no-contact for the purpose of safety. Furthermore, your sample is being mailed straight to the laboratory where we will conduct the testing of your sample, therefore allowing your results to be guaranteed as fast as the same day (if samples arrive by 11AM) or next day.
How long do PCR tests typically take?

The time it takes to receive your results from a PCR test depends on many factors like the number of samples, how long it takes for it to reach the specific laboratory, etc. This usually takes between a day to several days, up to a week. At Altogen Labs, your results are guaranteed either the same day (samples received by 11:00 AM), or the next day (samples received after 11:00 AM).
What is the difference between a rapid test and a PCR test?
PCR tests are known as the gold standard. They are also typically the type of test that is required to meet airline requirements and travel to certain locations.
Rapid tests, also known as Rapid Antigen Tests, are widely available and can deliver results within 15 minutes. However, the problem with these tests is that they are not as accurate as PCR tests. Those who use these tests are prone to getting false positives or false negatives, and it can take days for antibodies to develop in your body and be enough for these antibody tests to be able to sense them. Because of this, they are not seen as reliable as PCR tests. PCR stands for "Polymerase Chain Reaction," and this type of test can detect specific genetic material from the virus. It can detect fragments of it even if you are no longer actively infected at the time of the test. It is the most accurate type of test available. Although it takes longer to get results for a PCR test than a rapid test, it is known as one of the most reliable test.
While we only offer PCR tests, if you are looking for an antigen test, we recommend going to a local pharmacy like CVS to pick up a rapid test at your convenience.
Symptoms of COVID-19:
Cough
Difficulty breathing
Fatigue
Body/muscle aches
Sore throat
Fever/chills
Sudden loss of taste or smell
Headache
Nausea
Congestion/runny nose
According to the CDC, these symptoms may appear 2-14 days after exposure to the virus. Symptoms can vary from mild to severe depending on how the exposed person's body reacts to it. Older adults and anyone with underlying medical conditions such as heart or lung disease appear to be at higher risk of developing more severe complications.
In most cases, our test will show the variant of COVID-19 in your body.
Different variants of COVID-19:
Alpha Variant: First detected in November of 2020, and was initially the dominant variant in the United States until numbers were brought under control.
Beta Variant: Detected at the end of 2020, this variant seemed to be notably more contagious.
Gamma Variant: Detected at the beginning of 2021, this variant also grew more contagious and was documented to be more susceptible to re-infection.
Delta Variant: This variant caused high numbers of infection in April of 2021, and had mutated significantly by this point. It had become up to 90% more contagious than the initial Alpha variant and had become more severe, with more severe symptoms, especially in the unvaccinated population.
Omicron Variant: First detected in November of 2021, this variant is highly transmissible and is still being researched. As of February 2022, it is has become the dominant variant in the United States. It has mutated further than the earlier variants and has become even more contagious. Breakthrough cases are constantly being documented, and while the vaccine is seeming to prevent the worse symptoms of the virus, it seems to be less effective at preventing spreading the virus and is currently being researched. In fact, the first person documented to be infected with it was vaccinated.