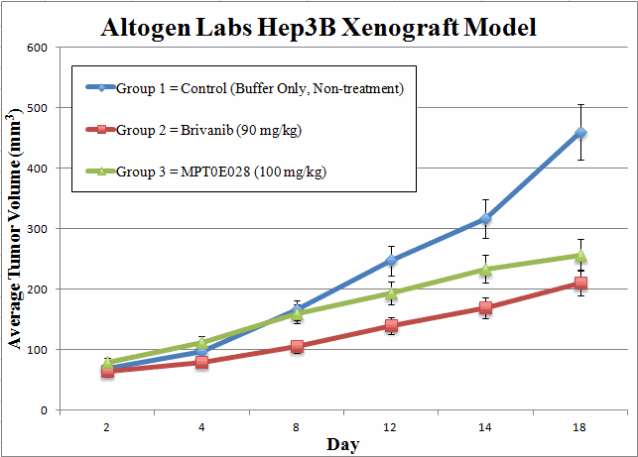 Hep3B xenograft model
Liver cancer is the second leading cause of cancer deaths worldwide that accounts for over 800,000 new cases annually, making it a global public health challenge. Hepatocellular carcinoma (HCC) is the most common type of liver cancer in adults, accounting for more than 70 percent of all liver malignancies. The Hep3B epithelial cell line is isolated from the liver tissue of an 8-year-old Black male patient with hepatocellular carcinoma. Hep-3B cells are tumorigenic in nude mice and contain Hepatitis B. Also, the Hep-3B cell line has the Hep B virus integrated into its genome. A 2013 study published in International Journal of Hepatology investigated the antitumor efficacy of allosteric mTOR inhibitor everolimus, a rapamycin analog, both alone and in combination with the microtubule-destabilizing agent, patupilone. In vivo studies show that everolimus treatment for two weeks inhibits the growth of Hep3B xenografts. The study demonstrates the antitumor activity of everolimus in both in vitro and in vivo models of HCC as a potential therapeutic strategy for liver cancer. Also, the combination of everolimus with patupilone could be a highly effective regimen for the treatment of HCC. Another 2013 study (Yang et al.) used the Hep3B xenograft model to characterize brivanib, a tyrosine kinase inhibitor that targets angiogenesis receptors FGF-R1, FGF-R2 and VEGF-R2. They utilized 1H high-resolution magic angle spinning magnetic resonance spectroscopy (HR-MAS MRS) and histopathology to demonstrate that brivanib treatment reduced tumor growth, proliferation and angiogenesis while increasing apoptosis. The technique can also provide metabolite information and was demonstrated to compliment traditional histopathological results, supporting its clinical use. A 2017 Nature study by Liu et al. used the Hep3B cell model to show that the traditional Chinese medicine Polyugonum bistort (PB) has antitumor effects with the mechanism of action being upregulation of apoptosis in hepatoma caused by reactive oxygen species (ROS) induced endoplasmic reticulum (ER) stress. Other accompanying effects include increased ubiquitinated proteins (proteostasis impairment), cytoskeletal changes, reduced cell adhesion and motility as well as halted cell cycle progression; overall data supports PB for further study as a complementary HCC treatment. Another study in Nature's Cancer Gene Therapy used the Hep3B model to characterize OAS403, an oncolytic adenovirus that selectively replicates in tumor cells; OAS403 selectively killed tumor cells and increased the efficacy with doxyrubicin combination treatment. Finally, Zhao et al. used the Heb3B xenograft model to demonstrate the use of positron emission tomography (PET) for optical molecular imaging of HCC and using radiolabeled or fluorescent epidermal growth factor receptor (EGFR) affibody molecule as a cancer specific affinity probe, which has clinical implications for in vivo HCC detection. The Hep3B cell line (human liver) is used to create the CDX (Cell Line Derived Xenograft) Hep3B xenograft mouse model. The Hep3B xenograft model of human hepatocellular carcinoma (HCC) enables studies consisting of tumor growth inhibition of a therapeutic agent such as sorafenib, along with studies monitoring acquired sorafenib resistance.
*NOTE: All IP rights to the Hep3B cell line belongs to Wistar Institute. Clients will need to obtain licensing from Wistar Institute prior to the initiation of a xenograft study using the Hep3B cell line.
Download Altogen Labs Hep3B Xenograft Model PowerPoint Presentation: 

Basic study design
1. Exponential growth of cells is maintained prior to collection.
2. The Hep3B cells are collected by trypsinization, viability determined by a trypan blue exclusion test (req 98% viability) and cell count determined.  At this piont, cell suspension concentrations are adjusted to the required density.
3. One million cells of the Matrigel/Hep3B cell suspension (50%/50%; vol = 100 uL) is injected subcutaneously into the flank of a hind leg per each mouse (9-11 weeks old, NOD/SCID or athymic Nude mice).
4. Injection sites are monitored for tumor growth.  Calipers are used for measuring tumors with an expected start size of 50-150 mm3.
5. After sorting into treatment cohorts, the compounds of interest are injected according to the treatment design schedule.
6. Daily tumor measurements are recorded and mouse weights are logged 3 times weekly.
7. Upon reaching the tumor size limit per approved IACUC protocol (or 2,000 cubic mm), the mice are humanely euthanized.
8. As defined in the experimental design, necropsy and tissue collections are performed.
9. Tumors are removed, weighed, documented, and imaged digitally.
10. Tissues are then collected for downstream analysis; standard gross necropsies are performed.
11. All collected tumors/tissues have the option to be snap frozen, submerged in RNAlater reagent, nucleic acids isolated for genetic analysis, or fixed for histological analysis.
Get Instant Quote for
Hep3B Xenograft Model
Altogen Labs provides an array of laboratory services using over 30 standard Cell Line Derived Xenograft (CDX) models and over 20 PDX models. Researchers investigating the role of specific proteins or gene products in regulating tumor growth can benefit from development of protein overexpression (genetically engineered to ectopically express proteins, tumor suppressors, or oncogenes) and RNAi cell lines with long term gene silencing. Altogen Labs provides quantitative gene expression analysis of mRNA expression (qPCR) and protein expression analysis using the WES system (ProteinSimple).
Animal handling and maintenance at the Altogen Labs facility is IACUC-regulated and GLP-compliant. Following acclimatization to the vivarium environment, mice are sorted according to body mass. The animals are examined daily for tumor appearance and clinical signs. We provide detailed experimental procedures, health reports and data (all-inclusive report is provided to the client that includes methods, results, discussion and raw data along with statistical analysis). Additional services available include collection of tissue, histology, isolation of total protein or RNA and analysis of gene expression.
Following options are available for the Hep3B xenograft model:
Hep3B Tumor Growth Delay (TGD; latency)
Hep3B Tumor Growth Inhibition (TGI)
Dosing frequency and duration of dose administration
Dosing route (intravenous, intratracheal, continuous infusion, intraperitoneal, intratumoral, oral gavage, topical, intramuscular, subcutaneous, intranasal, using cutting-edge micro-injection techniques and pump-controlled IV injection)
Hep3B tumor immunohistochemistry
Alternative cell engraftment sites (orthotopic transplantation, tail vein injection and left ventricular injection for metastasis studies, injection into the mammary fat pad, intraperitoneal injection)
Blood chemistry analysis
Toxicity and survival (optional: performing a broad health observation program)
Gross necropsies and histopathology
Positive control group employing cyclophosphamide, at a dosage of 50 mg/kg administered by intramuscular injection to the control group daily for the study duration
Lipid distribution and metabolic assays
Imaging studies: Fluorescence-based whole body imaging, MRI