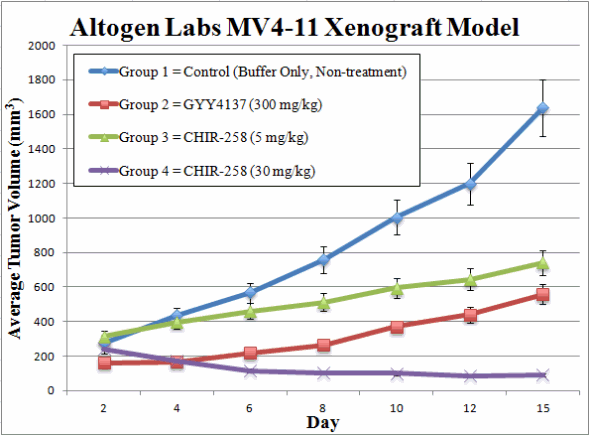 MV4-11 xenograft model
Acute myeloid leukemia (AML) is a rapidly progressing cancer characterized by uncontrolled proliferation of bone marrow cells as well as loss of normal differentiation. The Fms-like tyrosine kinase 3 (FLT3) receptor plays an essential role in proliferation and differentiation of stem cells. FLT3 genes are the most commonly mutated genes in AML that is often associated with poor overall survival. The MV4-11 cell line was derived by Rovera and associates from the blast cells of a 10-year-old male patient with biphenotypic B-myelomonocytic leukemia and is frequently used in preclinical oncology studies. A 2017 study published in Investigational New Drugs evaluated the ability of a novel FLT3/AXL inhibitor gilteritinib to inhibit mutated FLT3 in both cellular and animal models of AML. According to the article, gilteritinib demonstrates inhibitory activity against the internal tandem duplication (FLT3-ITD) and FLT3-D835Y point mutations in vitro. Also, it shows tumor regression and improved survival in the MV4-11 xenograft model in vivo. The results indicate that gilteritinib could be a next-generation FLT3 inhibitor that is beneficial for the treatment of AML patients. A 2011 Cancer Cell study by Daigle et al used the MV4-11 model to characterize the activity of EPZ004777, a potent and selective DOT1L inhibitor that prevents H3K79 methylation and expression of leukemia oncogenes; results show that the compound selectively kills leukemia cells and extends survival in a mouse xenograft model, validating the use of DOTL1 inhibitors for anti-leukemia therapy. In 2017 Li et al. released a study in Molecular Cancer Therapeutics using the MV4-11 cell line to characterize SGN-CD123A, an antibody drug conjugate that targets IL receptor alpha (IL3Rα or CD123) which is often overexpressed in leukemic cells. Results showed treatment caused remission growth delay in a subcutaneous xenograft model and enhanced the activity of known leukemic drug quizartinib, thereby supporting the ongoing clinical trial. The last example study is the Clinical Cancer Research article by Lopes de Menezes et al. (2005) which used the MV4-11 xenograft model to characterize CHIR-258, an FLT3 kinase and class III, IV, and V receptor tyrosine kinase (RTK) inhibitor. Results demonstrated antiproliferative activity, tumor regression and pro-apoptitic activity supporting CHIR-258 (now known as dovitinib) for clinical trials (dovitinib progressed to Phase II trials in 2017. The MV4-11 cell line (human leukemia) is used to create the CDX (Cell Line Derived Xenograft) MV4-11 xenograft mouse model. The MV4-11 xenograft model is an AML preclinical mouse model enables to study inhibitors of FLT3 (e.g. SU11248, CHIR-258, silvestrol).
Download Altogen Labs MV411 Xenograft Model PowerPoint Presentation: 

Basic study design
MV4-11 cell viability is confirmed using trypan blue (>98% viability req'd). The final concentration of the cell suspension is adjusted to the appropriate starting density for injections.
Inoculations consist of each mouse receiving a single, s.c. injection of 1 x 106 cells (100µL vol) in the flank of one hind leg.  The injection is a mixture of Matrigel plus MV4-11 cells.
Animals are continually observed and injection sites are palpated until tumors are established.  Tumors are calipered and the study begins when average tumor size is in the range of 50-150 mm3.
Mice are randomized into study groups to generate consistent animal grouping across cohorts.  The administration of test materials is performed consistent with the treatment schedule.
Tumors and mouse weights are continually measured throughout the in-life portion of the study.
When the tumor size limit is reached, animals are euthanized humanely.  Tumors are excised from the animals and weighed.  Optional digital imaging for tumors is available.
Standard gross necropsies for the collection of tissues is performed and tissues/tumors can be snap frozen in Liq-N2, nucleic acids isolated or prepared for histology.
Get Instant Quote for
MV4-11 Xenograft Model
Xenograft animal models are used to assess the effectiveness of drugs against specific types of cancer. New medicines are tested on staged tumor growths that have been engrafted via subcutaneous or orthotopic inoculation in an immunocompromised mouse or rat model. All clinically approved anti-cancer agents have been evaluated with conventional preclinical in vivo models. Xenograft studies can be highly complex, starting with the selection of the appropriate animal model, choice of tumorigenic cell line, administration method, dosing, analysis of tumor growth rates and tumor analysis (histology, mRNA and protein expression levels).
Animal handling and maintenance at the Altogen Labs facility is IACUC-regulated and GLP-compliant. Following acclimation to the vivarium environment, mice are sorted according to body mass. The animals are examined daily for tumor appearance and clinical signs. We provide detailed experimental procedures, health reports and data (all-inclusive report is provided to the client that includes methods, results, discussion and raw data along with statistical analysis). Additional services available include collection of tissue, histology, isolation of total protein or RNA and analysis of gene expression. Our animal facilities have the flexibility to use specialized food or water systems for inducible gene expression systems.
Following options are available for the MV4-11 xenograft model:
MV4-11 Tumor Growth Delay (TGD; latency)
MV4-11 Tumor Growth Inhibition (TGI)
Dosing frequency and duration of dose administration
Dosing route (intravenous, intratracheal, continuous infusion, intraperitoneal, intratumoral, oral gavage, topical, intramuscular, subcutaneous, intranasal, using cutting-edge micro-injection techniques and pump-controlled IV injection)
MV4-11 tumor immunohistochemistry
Alternative cell engraftment sites (orthotopic transplantation, tail vein injection and left ventricular injection for metastasis studies, injection into the mammary fat pad, intraperitoneal injection)
Blood chemistry analysis
Toxicity and survival (optional: performing a broad health observation program)
Gross necropsies and histopathology
Positive control group employing cyclophosphamide, at a dosage of 50 mg/kg administered by intramuscular injection to the control group daily for the study duration
Lipid distribution and metabolic assays
Imaging studies: Fluorescence-based whole body imaging, MRI