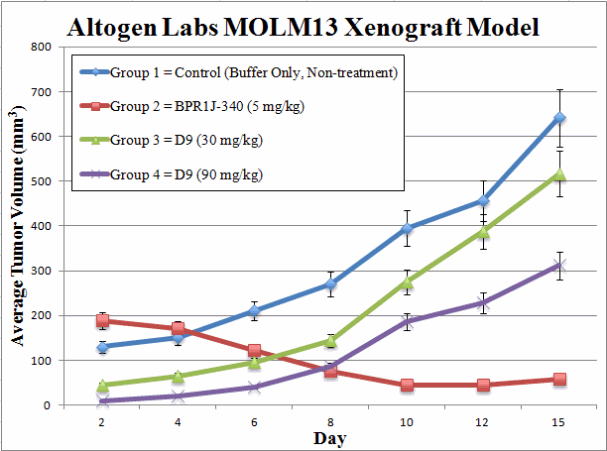 MOLM-13 xenograft model
Leukemia is cancer originating in blood-forming tissues, which affects the blood and bone marrow. According to the Leukemia Research Foundation, nearly 387,000 Americans currently live with leukemia, and more than 12,000 new cases of acute myeloid leukemia (AML) are diagnosed annually. The parental MOLM-13 cell line has features of both AML and Myelodysplastic Syndromes (MDS). The MOLM-13 cell line was isolated from the peripheral blood of a patient with a relapse of AML that evolved from MDS. A 2011 study published in Blood Cancer Journal demonstrated that pacritinib, a tyrosine kinase inhibitor (TKI) with potent inhibitory activities against FLT3 and JAK2, was highly effective in blocking tumor growth in the MOLM-13 mouse xenograft model. Pacritinib inhibits the activity of FLT3 in the MOLM-13 xenograft model, and with its dual potent JAK2/FLT3 inhibition and a favorable pharmacokinetic profile could be a drug of choice in the treatment of AML patients. In 2016 an Oncogene study (Lindblad et al.) used the MOLM-13 model to investigate the mechanism of sorafenib, an FLT3 inhibitor, resistance and found that aberrant activation of PI3K and mTOR pathways were the primary contributors to the resistance. This suggest that clinical combination therapy of sorafenib with a selective PI3K/mTOR inhibitor such as gedatolisib has potential to overcome resistance. Drenberg et al. published data in Cancer Chemotherapy Pharmacology (2016) evaluating the anti-leukemic properties of combination therapy of the conventional drug cytarabine with artemisinins artesunate (ART) and dihydroartemisinin (DHA) using the MOLM-13 cell line. Results showed that combination treatment caused tumor regression but was not well tolerated and decreased survival, suggesting that artemisinins should not be used in therapeutic strategies. Yamamura et al. (2017) performed a study using the MOLM-13 model to evaluate FF-10101, an irreversible FLT3 inhibitor that was developed to overcome mutation-based resistance observed with the inhibitor quizartinib. Results demonstrated a potent and selective inhibition of FLT3, even with mutations, and that the compound has promise for AML treatment. The last example of a MOLM-13 utilizing study is by Keegan et al. (2014) which evaluated the FLT3/CDK4 dual kinase inhibitor AMG 925 and found that treatment led to STAT5/Rb-mediated reduced xenograft tumor growth and ability to overcome FLT3-mutation mediated resistance, thereby supporting this strategy for clinical study. The MOLM-13 cell line (human leukemia) is used to create the CDX (Cell Line Derived Xenograft) MOLM-13 xenograft mouse model. The MOLM-13 xenograft model is a robust xenograft model to assess efficacy of inhibitors of FLT3 or HDAC (e.g. BPR1J-340, pracinostat, vorinostat).
Download Altogen Labs MOLM-13 Xenograft Model PowerPoint Presentation: 

Basic study design
MOLM-13 cells are trypsinized and then cell viability is determined (min 98% viability via trypan blue).  After adjusting the cell suspension concentration, one million cells (in 100 µL) of the Matrigel + MOLM-13 mix are injected into a rear flank of a 10 to 12 week old athymic BALB/C or NOD/SCID mouse.  All sites of injection are monitored and until it is determined tumors are established.
Tumors are continually measured (via calipers; digital) until tumor size averages 50-150 mm3.  Animals are then randomized into client described cohorts.  In-life injections are determined in the treatment table.
Daily tumor measurements and mouse weights (3 times weekly) are documented.
Animals are humanely euthanized when the predetermined size limit is reached.  Tissues are snap frozen in liquid nitrogen, prepared for histological analysis or nucleic acids isolated.
Get Instant Quote for
MOLM-13 Xenograft Model
Altogen Labs provides an array of laboratory services using over 30 standard Cell Line Derived Xenograft (CDX) models and over 20 PDX models. Researchers investigating the role of specific proteins or gene products in regulating tumor growth can benefit from development of protein overexpression (genetically engineered to ectopically express proteins, tumor suppressors, or oncogenes) and RNAi cell lines with long term gene silencing. Altogen Labs provides quantitative gene expression analysis of mRNA expression (RT-PCR) and protein expression analysis using the WES system (ProteinSimple).
Animal handling and maintenance at the Altogen Labs facility is IACUC-regulated and GLP-compliant. Following acclimation to the vivarium environment, mice are sorted according to body mass. The animals are examined daily for tumor appearance and clinical signs. We provide detailed experimental procedures, health reports and data (all-inclusive report is provided to the client that includes methods, results, discussion and raw data along with statistical analysis). Additional services available include collection of tissue, histology, isolation of total protein or RNA and analysis of gene expression. Our animal facilities have the flexibility to use specialized food or water systems for inducible gene expression systems.
Following options are available for the MOLM-13 xenograft model:
MOLM-13 Tumor Growth Delay (TGD; latency)
MOLM-13 Tumor Growth Inhibition (TGI)
Dosing frequency and duration of dose administration
Dosing route (intravenous, intratracheal, continuous infusion, intraperitoneal, intratumoral, oral gavage, topical, intramuscular, subcutaneous, intranasal, using cutting-edge micro-injection techniques and pump-controlled IV injection)
MOLM-13 tumor immunohistochemistry
Alternative cell engraftment sites (orthotopic transplantation, tail vein injection and left ventricular injection for metastasis studies, injection into the mammary fat pad, intraperitoneal injection)
Blood chemistry analysis
Toxicity and survival (optional: performing a broad health observation program)
Gross necropsies and histopathology
Positive control group employing cyclophosphamide, at a dosage of 50 mg/kg administered by intramuscular injection to the control group daily for the study duration
Lipid distribution and metabolic assays
Imaging studies: Fluorescence-based whole body imaging, MRI