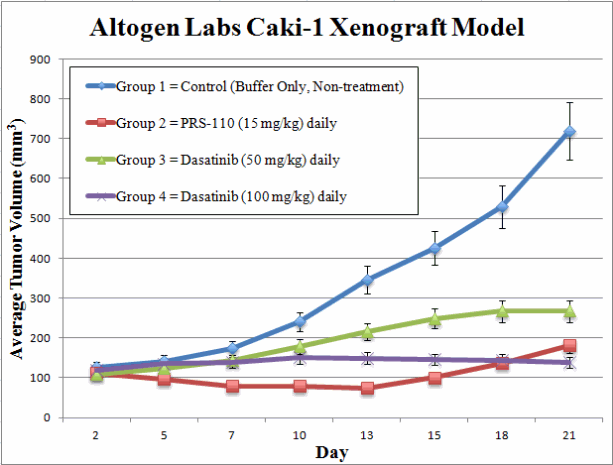 Caki-1 xenograft model
Clear cell renal cell carcinoma (ccRCC) is a specific type of kidney cancer that exhibits extensive vasculature and is the most common RCC. There is clinical difficulty associated with treating patients with ccRCC due to associated resistance, which is why research, especially with human-based xenograft models, is so important. The Caki-1 cell line was established from a skin metastasis site in 1971 from a 49yo Caucasian male diagnosed with ccRCC. Caki-1 cells in culture display a polarized monolayer with microvilli, an atypical surface as well as features of proximal tubule epithelium. Studies that have used the Caki-1 cell line include Marona et al. (2017) who studied the role of the freshly discovered zinc finger monocyte chemotactic protein 1-induced protein 1 (MCP1P1) which has been implicated in cancer and is known to affect cytokines , angiogenesis, proliferation, HIF-1, miRNA biosynthesis and NFκB. The group found that MC1P1 is downregulated in ccRCC progression and these decreased levels are associated with increased growth, metastasis, proliferation and vasculature. In 2012 Miyake et al. published a study using a Caki-1 xenograft model that demonstrated an effective combination therapy in this cancer type is 5-fluorouracil with either sorafenib or sunitinib (anti-angiogenesis). The last example study to use a Caki-1 xenograft model is the 2011 study by Iwata et al. where results demonstrated that vinblastine (VBL) resistance can be bypassed with combination treatment with a demethylating agent ( 5-aza-2′-deoxycytidine, Aza); several tumor suppressor genes had been reported to be hypermethylated and combination treatment resulted in decreased levels of Bcl-2, cyclin B1 and P-glycoprotein as well as increased apoptosis and cell cycle arrest. The Caki-1 cell line (human kidney; clear cell) is used to create the CDX (Cell Line Derived Xenograft) Caki-1 xenograft mouse model. The Caki-1 xenograft model is a valuable pre-clinical anti-tumor growth model used to study inhibitors of RAF-1, VEGR and PDGFR (e.g. sunitinib, sorafenib, 5-FU).
Download Altogen Labs Caki-1 Xenograft Model PowerPoint Presentation: 

*NOTE: All IP rights to the Caki-1 cell line belongs to Memorial Sloan Kettering.  Clients will need to obtain licensing from Memorial Sloan Kettering prior to the initiation of a xenograft study using the Caki-1 cell line.
Basic study design:
Viability and cell concentration is determined by incorporating the trypan blue assay.  Only highly viable cells are used in the study.  Each injection contains a 100 microliter injection (1 x 106 cells of Matrigel plus Caki-1 cells).
Immunocompromised mice (10 weeks old) receive subcutaneous injections in the hind leg.  Palpation of inoculation areas allows for continual monitoring of tumor establishment.  At 100-150 mm3, tumor-displaying animals are arranged into study groups displaying equal group deviations.  The test compound injections follow the treatment schedule.
Tumors (daily measurements) and body weights are documented until the end of the study.  Through rigorous necropsies, tissues are collected putative downstream analysis.  Resected tumors are excised/weighed/imaged (digitally).  Tissues are stabilized according to parameters established by the customer: RNAlater, snap frozen, 10% NBF or nucleic acids isolated.
Get Instant Quote for
Caki-1 Xenograft Model
Xenograft animal models are used to assess the effectiveness of drugs against specific types of cancer. New medicines are tested on staged tumor growths that have been engrafted via subcutaneous or orthotopic inoculation in an immunocompromised mouse or rat model. All clinically approved anti-cancer agents have been evaluated with conventional preclinical in vivo models. Xenograft studies can be highly complex, starting with the selection of the appropriate animal model, choice of tumorigenic cell line, administration method, dosing, analysis of tumor growth rates and tumor analysis (histology, mRNA and protein expression levels).
Altogen Labs provides an array of laboratory services using over 30 standard Cell Line Derived Xenograft (CDX) models and over 20 PDX models. Researchers investigating the role of specific proteins or gene products in regulating tumor growth can benefit from development of protein overexpression (genetically engineered to ectopically express proteins, tumor suppressors, or oncogenes) and RNAi cell lines with long term gene silencing. Altogen Labs provides quantitative gene expression analysis of mRNA expression (RT-PCR) and protein expression analysis using the WES system (ProteinSimple).
The dosing of the experimental compound of interest is initiated, for a staged study, when the mean tumor size reaches a specified volume (typically 50-100 mm3). In an unstaged study, the dosing of the compound of interest is initiated immediately after xenografting. Mice are dosed once or twice a day for 28 days (or other desired study duration) via the chosen route of administration. Tumor volume (mm3) is calculated via the "(W x W x L) / 2" formula, where W is tumor width and L is tumor length.
Following options are available for the Caki-1 xenograft model:
Caki-1 Tumor Growth Delay (TGD; latency)
Caki-1 Tumor Growth Inhibition (TGI)
Dosing frequency and duration of dose administration
Dosing route (intravenous, intratracheal, continuous infusion, intraperitoneal, intratumoral, oral gavage, topical, intramuscular, subcutaneous, intranasal, using cutting-edge micro-injection techniques and pump-controlled IV injection)
Caki-1 tumor immunohistochemistry
Alternative cell engraftment sites (orthotopic transplantation, tail vein injection and left ventricular injection for metastasis studies, injection into the mammary fat pad, intraperitoneal injection)
Blood chemistry analysis
Toxicity and survival (optional: performing a broad health observation program)
Gross necropsies and histopathology
Positive control group employing cyclophosphamide, at a dosage of 50 mg/kg administered by intramuscular injection to the control group daily for the study duration
Lipid distribution and metabolic assays
Imaging studies: Fluorescence-based whole body imaging, MRI