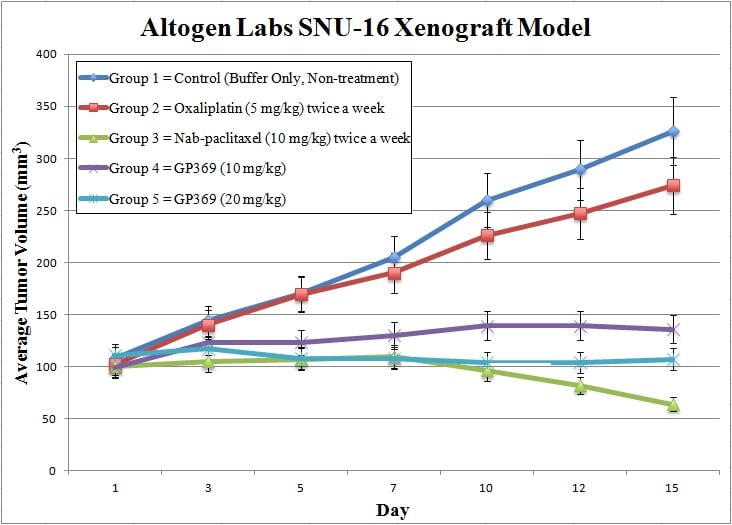 SNU-16 xenograft model
Gastric cancer has high mortality rates, poor prognosis and is the third leading cause of cancer-related deaths worldwide. The SNU-16 cell line was isolated in 1987 by J. Park from ascites of a 33-year-old Asian female patient with poorly differentiated carcinoma of the stomach prior to chemotherapy. The SNU-16 cell line expresses carcinoembryonic antigen (CEA), TAG 72 and overexpresses fibroblast growth receptor 2 (FGFR2) which appears to be a putative driver of tumorigenesis. Subcutaneous implantation of the SNU-16 human gastric tumor cells into immunodeficient mice aims to predict in vivo drug response in humans. Overexpression of FGFR2 in the SNU-16 xenograft model enables pre-clinical studies of novel FGFR inhibitors (e.g. anti-FGFR2 mAb, AZD4547) (Xie et al. 2013). DS-8895a has therapeutic potential against EPHA2-expressing tumors and inhibits tumor growth in EPHA2-positive SNU-16 xenograft mouse model, but it shows even better efficacy in combination with cisplatin (CDDP), as per a 2016 study published in Cancer Biology and Therapy. Miyano et al. (2016) also released a study using the SNU-16 xenograft model do demonstrate that the selective tyrosine kinase inhibitor E7090, active against FGFR1, -2 and -3, shows anti-proliferation effects, decreased tumor size and prolonged survival in mice. E7090 is being studied in a Phase 1 clinical trial. As the last example, the Chang et al. (2016) study used the SNU-16 line to investigate why gastric cancers are resistant to biomarker-driven targeted therapy such as trastuzumab, an anto-ERBB2 monoclonal antibody. High-throughput cell and xenograft microarrays of heterogeneous tumor cells were used to correlate resistance to ERBB2 genomic anomalies; the group concluded that these array methods can also be used to determine disease specific biomarkers for useful clinical treatments. The SNU-16 cell line is used to create the CDX (Cell Line Derived Xenograft) SNU-16 xenograft mouse model.
Download Altogen Labs SNU16 Xenograft Model PowerPoint Presentation: 

Basic study design
Immuno-compromised mice (athymic BALB/C or NOD/SCID; 10 to 12 w.o.) receive subcutaneous injections into a hind leg.  Each injection of 1 x 106 cells contains Matrigel plus SNB-75 cells, with a total injection volume of 100 µl. The high viability requirement (via trypan blue) is determined prior to injections.
The injection sites are continually examined until tumors are deemed established.  As tumors reach 50-150 mm3, treatment groups are established.  The test compounds are injected according to the dosing schedule.
In-life tumor measurements (up to daily) and whole body weights (up to tri-weekly) are documented.  Tumor maximum permitted size marks the end of study (2,000 cu mm or IACUC-defined tumor size).
Tissues collections are performed and tissues can be submersed in 10% NBF, immersed in RNAlater or snap frozen. All tumor samples are dissected and weighed.
Get Instant Quote for
SNU-16 Xenograft Model
Xenograft animal models are used to assess the effectiveness of drugs against specific types of cancer. New medicines are tested on staged tumor growths that have been engrafted via subcutaneous or orthotopic inoculation in an immunocompromised mouse or rat model. All clinically approved anti-cancer agents have been evaluated with conventional preclinical in vivo models. Xenograft studies can be highly complex, starting with the selection of the appropriate animal model, choice of tumorigenic cell line, administration method, dosing, analysis of tumor growth rates and tumor analysis (histology, mRNA and protein expression levels).
The dosing of the experimental compound of interest is initiated, for a staged study, when the mean tumor size reaches a specified volume (typically 50-100 mm3). In an unstaged study, the dosing of the compound of interest is initiated immediately after xenografting. Mice are dosed once or twice a day for 28 days (or other desired study duration) via the chosen route of administration. Tumor volume (mm3) is calculated via the "(W x W x L) / 2" formula, where W is tumor width and L is tumor length.
Animal handling and maintenance at the Altogen Labs facility is IACUC-regulated and GLP-compliant. Following acclimation to the vivarium environment, mice are sorted according to body mass. The animals are examined daily for tumor appearance and clinical signs. We provide detailed experimental procedures, health reports and data (all-inclusive report is provided to the client that includes methods, results, discussion and raw data along with statistical analysis). Additional services available include collection of tissue, histology, isolation of total protein or RNA and analysis of gene expression. Our animal facilities have the flexibility to use specialized food or water systems for inducible gene expression systems.
Following options are available for the SNU-16 xenograft model:
SNU-16 Tumor Growth Delay (TGD; latency)
SNU-16 Tumor Growth Inhibition (TGI)
Dosing frequency and duration of dose administration
Dosing route (intravenous, intratracheal, continuous infusion, intraperitoneal, intratumoral, oral gavage, topical, intramuscular, subcutaneous, intranasal, using cutting-edge micro-injection techniques and pump-controlled IV injection)
SNU-16 tumor immunohistochemistry
Alternative cell engraftment sites (orthotopic transplantation, tail vein injection and left ventricular injection for metastasis studies, injection into the mammary fat pad, intraperitoneal injection)
Blood chemistry analysis
Toxicity and survival (optional: performing a broad health observation program)
Gross necropsies and histopathology
Positive control group employing cyclophosphamide, at a dosage of 50 mg/kg administered by intramuscular injection to the control group daily for the study duration
Lipid distribution and metabolic assays
Imaging studies: Fluorescence-based whole body imaging, MRI